I don't like cold weather. In winter, I try to snuggle in layers of clothes, so I feel warm and cozy. However, there is a reason why I consider this period to be the most wonderful time of year. It is Christmas.
It is not about the advent calendar gifts, nor is it Christmas hustle and bustle.
It's not about the weekends that you can spend with your family.
And it's not even about the fact that after Thanksgiving, the whole world goes into Christmas mode and you cannot hide from it.
Its magic is in a combination of everything.
Choosing and packing special gifts for your loved ones; enjoying long walks with your family; feeling that Christmas is coming.
I love the pre-Christmas atmosphere, the anticipation of the holiday is like a holiday itself. I like to see the stores filled with decorations and Christmas trees.
Hearing Christmas music in the background of all the stores is an amazing feeling. My holiday playlist is huge!
I like to watch the Christmas lights shining in the houses in the evenings. But the most pleasant Christmas experience is decorating my own house.
Decorating a Christmas tree is the only chore I'm looking forward to.
Long before Christmas, I start planning the style and mood that I want to see this year. What Christmas lights and decorations will I pick? How will I pack and arrange the gifts?
This year I decided to have two Christmas trees: a traditional one for the living room and a modern style one for my room. Flipping through a few hundred options of Christmas trees (the best research ever!), I found just what I was looking for.
While scrolling through tons of products, I thought that it takes an enormous amount of time, so I decided to save the list of my favorite Christmas decorations here.
Green Christmas tree with built-in warm lights and a stand. The tree itself consists of hinges and many branches. They can be easily spread, adjusted, and quickly removed.
The tree is made of fireproof and hypoallergenic materials, so it is suitable for families with children. This is the reason why it is a bestseller.
The advantages of this artificial Christmas tree are lush, yet delicate branches, realistic look and yellow-warm Christmas lights that are nice to look at. It is as simple as that. This year follows the trend of minimalistic design, so you might leave it as it is and concentrate more on decorating everything that is around the tree.
When choosing this product, please note that it is 6.5 ft in height. Such a traditional Christmas tree with pre-strung lights gives a lot of freedom in decoration. It will look amazing in a living room with high ceilings.
I gasped when I saw this tabletop Christmas tree! A 36-inch artificial tree with cute tiny cones and a burlap base. Each branch has several twigs that look very natural.
This small tabletop tree is not lush, so to decorate it you can additionally buy minimalistic LED string lights and ball ornaments of different sizes.
Since every branch is visible, this tree can become a staple of the room.
I would recommend decorating it with special Christmas ball ornaments, each ball being different, yet in the same style.
If you have a spacious room and you decided to decorate it with this tree, it will be understated. Such a baby will be visually lost in a large space.
This Christmas tree is designed for an apartment or a small room. I will place this tree on my desk or in the dining room.
I could not decide between two small Christmas trees.
The first option is a small 22-inch tree with asymmetric branches in a burlap base. It also includes elements of artificial blueberries, eucalyptus leaves, and fir twigs. It is a perfect mini-tree for the farmhouse Christmas decor.
It contains small details, so make sure not to let children to the tree unattended.
The second option is more traditional. 2-ft Christmas tree with lights and a comfortable stand.
The tree can be put on the table or set outdoors. Needles have UV protection, so the tree can easily stand outside all winter.
This one is a Pencil Christmas tree with lights and lush branches. The needles are easy to fold and can be adjusted. The height of the tree is 7.5 ft. The design is subtle and will fit into any interior.
However, it is a great choice for small apartments, because it doesn't need a lot of room and yet it is high enough to use the vertical space and create a feeling of grandeur and make a lasting impression.
Advantages are: rich color, thick needles, easy assembly, efficient in terms of space and design.
Keep in mind that due to short needles, heavy ball ornaments might not suit this design.
I would decorate it with ribbons and a statement topper. The bottom of the tree might need some Christmas tree skirt and ornaments to cover the stand and make sure it is visually whole and appealing.
This is a 3-piece set of modern Christmas trees. It provides a lot of decoration opportunities.
It is sold as a set in addition to the Christmas tree, but I think this can be used as an independent modern Christmas tree idea. Otherwise, you can arrange them in different rooms.
The gold cones look neatly: pre-strung lights, clean shapes and nice hue.
The product is only trending, so you can still hop on board and be rather unique in your decoration choice.
This is a 3-piece set of modern Christmas trees. It provides a lot of decoration opportunities.
It is sold as a set in addition to the Christmas tree, but I think this can be used as an independent modern Christmas tree idea. Otherwise, you can arrange them in different rooms.
The gold cones look neatly: pre-strung lights, clean shapes and nice hue.
The product is only trending, so you can still hop on board and be rather unique in your decoration choice.
These cones only remotely resemble Christmas trees due to their abstract concept. Actually, it is the main advantage of modern design. Trees will perfectly fit into the modern interiors in white, beige, and gray colors.
The trees are rather small (their height is 16, 24, and 32 inches), so it is better to put them on the table or mantelpiece. It can become a perfect centerpiece for the Christmas dinner table.
This unusual cashmere Christmas tree consists of branches of different shapes, types of the twigs and shades of green. (It even includes snowy needles!)
In spite of the great variety of branches, the cashmere tree looks harmonious and vivid.
It will add coziness to any interior. Soft and lush tree is also safe for children.
It looks so fluffy, you almost believe it is genuine, which is the main advantage of the cashmere type tree. Oh, and it is pleasant to touch.
The tree has no built-in lights, which only gives you freedom in decorating and choosing special string Christmas lights.
Cashmere Christmas tree is a real showstopper and it is huge (114 inches).
Even though it looks pompous, if decorated only with lights, it will have a clean look at a minimalistic design. It demands a lot of space around in order not to feel crowded.
However, it is one of the cases when if you overdress the tree, it will be suitable, since it has all the chances to become almost magical or fairy-tale.
This one is very nice! It has a Barbie vibe to it. The tree is 6 ft high and is made of UV-resistant fireproof material. This allows the Christmas tree to be used in any room or outdoors for many years.
Most people prefer to buy a fuchsia colored lights and a pink Christmas topper to it.
A pink Christmas tree is a challenge for any interior-enthusiast since you need to avoid Christmas lights with black wires, only transparent or white ones.
It is easy to overdo the tree due to its statement color. It is a great option if you want something special for a change, to add bright color into your routine.
Great color combinations to decorate pink Christmas tree: pink + pink, pink + white, pink + bronze, pink + gold, pink + silver or gray.
It is safe for children, fluffy, has a festive color, high quality.
A lot of parents buy the pink Christmas tree to put it into kids' room. Such outstanding piece will look good anywhere with proper styling.
The first option is a plush tree of soft pinkish gold color and a 6 ft height. There are no lights or pine cones on it. Due to its unusual hue, I would only decorate it with bows or silver star topper. It looks tender and somehow calming. I'm sure kids will appreciate it.
I also loved this design because the needles are made of environmentally friendly material. This means that it is safe for children.
The second option is a rose gold Christmas tree with pre-strung lights. It is 6.5 ft and has a pencil shape. This is a perfect choice for small spaces.
The color is saturated, and yet it looks sublime in the interior due to the soft gold glow of the lights.
Rose gold color is especially beautiful in the evening, So, if you have a room that is less filled with light, rose gold Christmas tree will be perfect there.
The snow-white tree with built-in lights has a pencil shape and is 6 feet high. Sturdy PVC needles can withstand even a very heavy ball ornament.
White color is a great basis for creativity. You can decorate your Christmas tree with lights and ball ornaments of different colors or choose two basic colors.
The main advantages are: bright built-in lights, easy assembly, space-saving, fluffy.
The Christmas tree will fit perfectly in a small apartment or office space. If you want to place it in a spacious room, it is better to surround it with lots of gifts, a tree skirt and decorations. White Christmas tree will look beautiful in the daylight, so you might want to choose a sunlit room.
Silver Christmas trees are really festive. It is a common choice for offices and children parties.
However, it can be styled in the interior as well.
The silver Christmas tree will look amazing with string LED lights of warm yellow color, creating a satisfying contrast.
The peculiarity of silver trees is that it is very beautiful in the night with lights on.
If you were looking for a less striking silver color, the trees with imitated snow will work for you. The designers were clearly inspired by the real tree: the tree has three levels with different lengths of branches.
Note that the lower branches are very lush, so the tree might not suit small spaces. The tree is made of materials that do not fade or lose shape for many years.
Snow-covered artificial Christmas trees are in great demand every year, because they do not need a lot of decoration. In this case it is really easy to overdress the tree.
As soon as you've picked the Christmas tree, you cannot stop there, the next step is the lights. Of course, I made a small top list for you too!
It seems to me that glowing lights on houses, trees, sculptures are the most important part of Christmas spirit.
If you have a lot of space in your room, you can also use outdoor Christmas lights at home.
Outdoor lights are suitable for private homes and apartments: you can decorate only your windows or collaborate with neighbors and decorate the whole house.
The color of the lights depends on what effect you want to achieve. Cold blue shades remind of the frosty iridescence, and warm yellow shades create a festive mood and comfort.
Do you want to decorate the roof of the house with lights?
Maybe you would want to go into a beast mode and decorate the whole house, trees, driveway, and put some sculptures?
It is up to you, but you should think ahead about your project.
Incandescent lights are unique in their glow. It provides some vintage touch many people are looking for and it gets harder and harder to find good incandescent lights these days.
I've included 2 options here. The first one is bright, joyful and festive.
The bright multicolored lights with lamps remind me of a gingerbread house from fairy tales. Each light bulb is easy to unscrew and can be replaced. The manufacturer does not recommend using the light bulb during snowfall or rain to extend its life.
The second one has this cozy and moving vibe.
It is suitable for indoor and outdoor use and has a warm, bright light. If used outdoors, it is important to insulate and protect the wiring from water. They provide nice, traditional glow that LED cannot provide.
The Christmas lights with cold LED glow has 9 modes of operation. The lights are quite long (65.6 ft) and will be enough to decorate a big Christmas tree or a wall in the room. You can set the lights only once – the device has a memory function.
The lights are waterproof, except for the controller. When installed outdoors, make sure to protect it from water. Wada is needed to take medicine. You can use the light at home, in this case, no protection is required. If one bulb stops working it will not affect others.
I like the glow such lights add to the Christmas trees. It is a perfect option for green Christmas trees. The green wiring becomes invisible and it seems like the branches are filled with beautiful fireflies.
Let's take a look at some interesting ways we can decorate the tree.
Star tree topper with LED projector will be suitable for a traditional Christmas within the classic interior. I would suggest the star shape of the topper as the universal one.
Specifically this option projects the flying snowflakes and stars on the ceiling, creating magical atmosphere. It is a perfect final touch to a lush tree.
Make sure to have enough room for the topper, it should not be too close to the ceiling. The height of the star is 9.9 inches.
It also rotates, if you set it. One small detail like makes your Christmas tree absolutely stunning.
Another advantage is that the topper is attached firmly to the tree, so neither kids nor cats will be able to knock it down.
This Christmas star is made of wood, it is waterproof and durable. Built-in lights create a warm and festive atmosphere. The star with lights off stays as attractive.
Beautiful and eco-friendly topper will be a great addition for a modern design, rustic or country interiors, or an unusual Christmas tree.
I loved the fact that it runs on batteries. Now we don't have to deal with another cord.
At first, it seemed to me that the star is very fragile. As it turned out, it is durable. The wooden frame is firmly fixed with a bronze wire.
If you don't want to deal with the actual tree this year, you can make the one on the wall.
It provides lots of creative opportunities.
It doesn't take up space.
Brilliant.
In order to recreate this picture: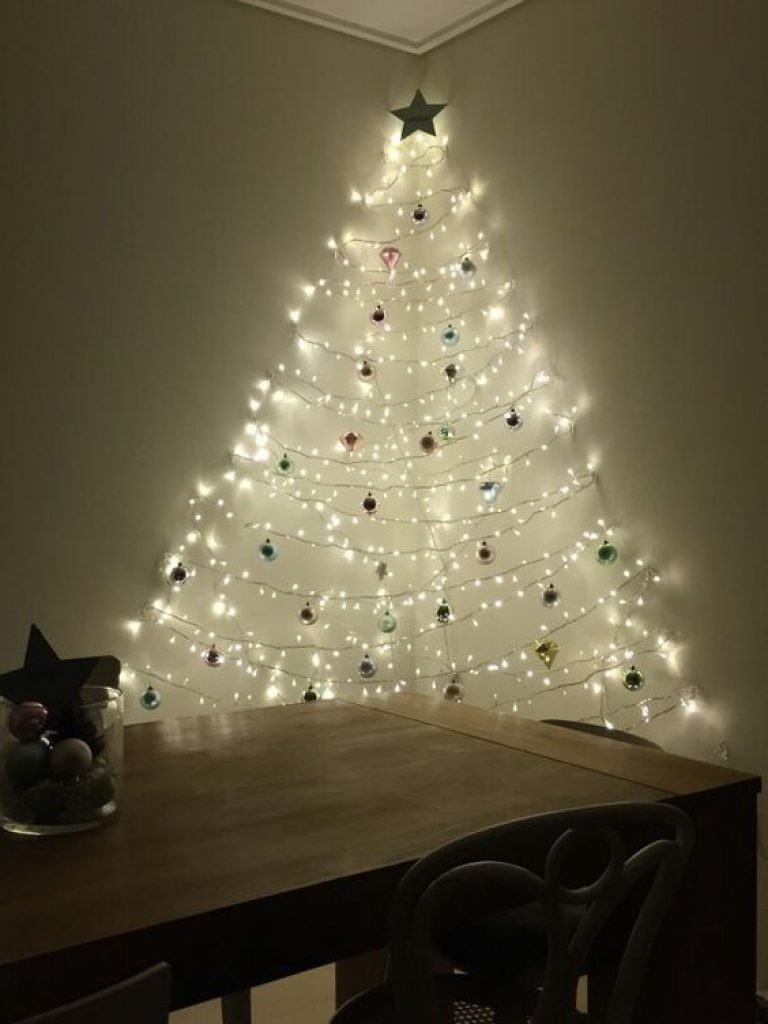 You will need Christmas string light like this, depending on the size of your project it can be 1 or 2 pieces.
I would take 1 set of white warm lights, and 1set of lights that change color according to settings. You should just create zigzags from one side of the wall to another, invisibly securing them with transparent tape. If you can, it is better to use special hooks and fasteners to slide the lights through, creating the right geometry, like tying the shoelaces.
Light Christmas Tree On The Wall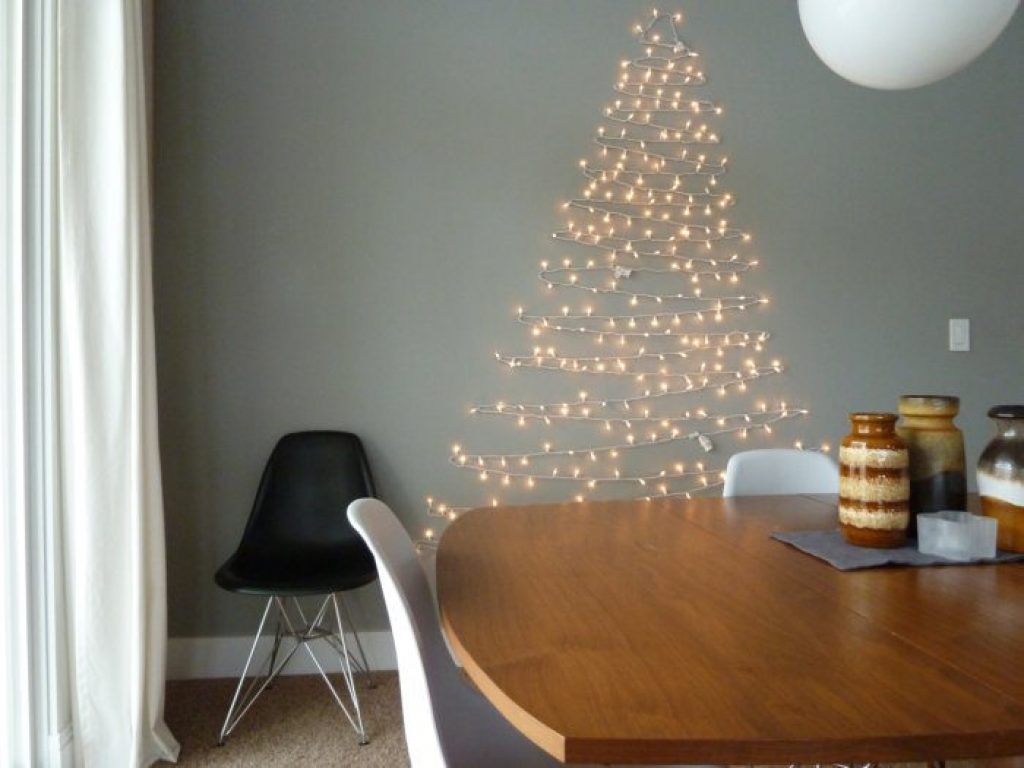 If you want to make a flat Christmas tree on the wall, make sure to choose the lights with either white or transparent wires, or a long string of LED lights.
The distance between the strings should be no larger than 1.5 inches to make a visually appealing wall Christmas tree.
These lights can be programmed from an app to any color from 16 million possible ones, so your wall tree can truly be unique.
Christmas tree décor with ribbons will be a good alternative to traditional ball ornaments and lights. Sometimes ribbon can become a sufficient and individual decorating element.
1. First decide on the design. Do you want the bows or long waves? The bows are best combined with lights. The waves are an extra element to any design. It looks good on big Christmas trees.
2. Buy a white ribbon with a wire and glue your favorite ribbon onto it.
3. Make sure you have enough ribbon (been there, done that).
4. Cut the ribbon if necessary.
5. First put all the Christmas tree ornament, lights and only then decorate with ribbons.
6. Do not try to make everything perfect. Careless chic looks beautiful.
7. At the end, step away from the Christmas tree and give it a look.
Silky ribbons are suitable for creating vertical decorations. Chiffon ribbons are great if you want to put a spiral around the Christmas tree. The ribbon fabric for bows should be thick to hold shape.
If you do not know what ribbon to choose, start with the classic, warm and traditional red option.
How many rolls do you need?
The more, the better. Personally, I think it is never enough. I make bows for the Christmas tree from this ribbon. I use the remnants to wrap gifts, decorate the legs of chairs, and many more. I've created an amazing copper candlestick handle and it goes well with the centerpiece composition with ribbons.
This one is a nice set of Christmas burlap ribbon with classic holiday drawings and patterns. Edge has a wire, so there is no need for white ribbon underneath. It provides for convenient fastening. The length of one roll is 36 yards.
There are 6 color options. You can buy one you like, but I suggest taking 6 rolls at once. This way you can make an interesting composition.
If you still have some ribbon left, use it to decorate wreaths, chandeliers, doors and walls with them.
I like to use the remains of the decorative ribbon for wrapping the presents. This way I give a part of my house and a festive mood.
Accessories: Christmas Tree Skirt
This is a small carpet, which is placed under the Christmas tree. Some people ignore it, but I believe it is aesthetically necessary and is an amazing way to cover the tree stand and a nice way to organize all the presents.
If you have a real tree, it is also needed as a place where the needles will fall.
There are many options depending on the type of production (machine knitting, hand knitting, etc.), combinations of colors and materials (fabric, fur, etc.).
When buying, pay attention to the diameter of the skirt, it is important to make sure it is larger than the size of the lower branches.
As for my favorites, there are only two timeless options in my opinion:
This one is 48-inch Christmas tree skirt with Merry Christmas inscription, a pickup truck with a dog and the trees in snow. The main color is beige burlap, at the edges – red and black plaid pattern. The material is soft flax.
It is cute, festive and classic. Sets just the right magic mood. Due to the large diameter, the skirt will protect the floor from needles.
This Christmas tree skirt will suit any interior and any color base. It is fluffy, so it imitates snow in a modern manner.
This skirt is perfect because it is large (46 inches in diameter), so all the presents will fit there, as well as all the needles falling from the tree.
It is easy to decorate with this Christmas skirt because the white color is a perfect canvas for any other color and the skirt's fluffiness adds just the right amount of texture.
If you have a real fir tree, it is in your best interest to make it fresh and beautiful for as long as you need.
In this case you will need two things: Christmas tree stand and tree food to add to the water.
This Christmas tree stand is featuring 360 degrees rotation. Now the tree can be visible from all the sides.
You can control the rotation of the tree through the remote control. As for wiring, the mechanism works the way it doesn't tangle the wire while rotating.
Water the tree every day for a week after it is cut and then once in a few days.
The rotating stand is suitable for trees up to 5.5″ in diameter. The diameter can be adjusted. Heavy and sturdy construction provides stability up to 7.5 ft high.
Now your tree should be beautiful all around.
The second option is a swivel stand for tree that is up to 12 ft high.
Maximum trunk diameter is 5.75 inches. If the trunk is thinner, it can be easily tightened with mounts.
It fits large amounts of water – up to 1.5 gallons.
In comparison to the model above, this stand doesn't have automatic rotation.
Such swivel stand was made specifically for tall and large trees.
Now we need something to add to the water to keep the tree in good condition for the whole holiday season.
Make sure that the trunk of the tree is immersed for at least 2 inches in the water. You should add a preservative to the water, which will save the tree for a longer time. It works as a nutrient for the tree.
Miracle Gro is the best out there, it nourishes the tree and reduces the fall of needles. Add it according to instructions and tree size.
If the water level decreases, you need to refill it with Miracle Gro. Its main ingredient is sugar, but its structure is different from the one we consume. If you have pets, make sure they do not drink water from the tree stand.
Happy holidays!
If you have any other Christmas tree ideas or want to ask me any question, comment below!