This morning I cleaned up some files on the laptop that were floating around aimlessly and came across this, something I had intended to blog about and then forgot about. I don't know where it's from anymore, who photographed or styled the image but I do know I saved it because Ligne Roset's Togo has been a long-time favorite sofa/chair of mine.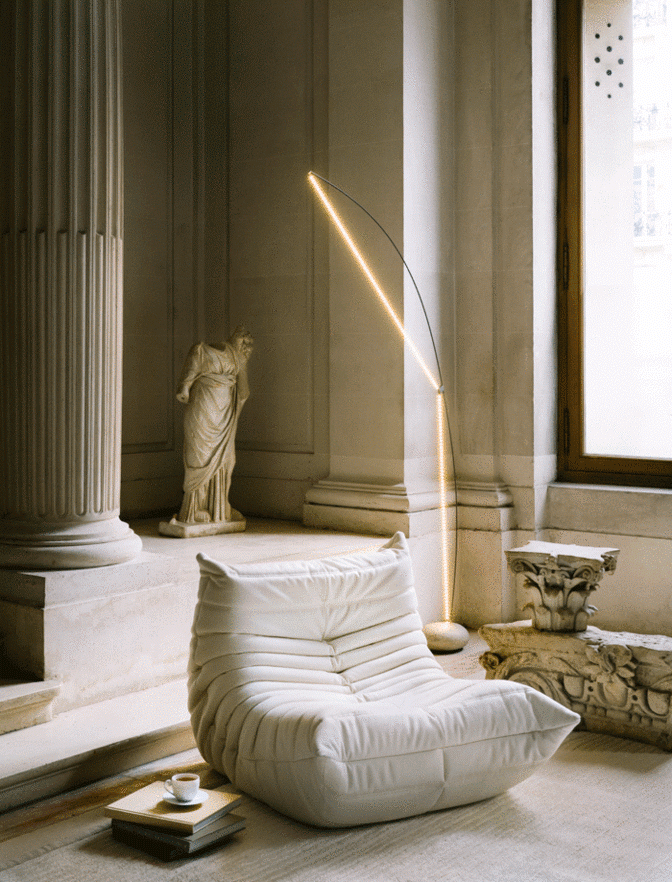 Ligne Roset's Togo chair and sofa were designed by an iconic designer Michel Ducaroy. He was born into a family of hereditary furniture artisans who worked both with private clients and with major contracts: they decorated exhibitions and furnished public buildings. Michel Ducaroy first became acquainted with the owners of the Ligne Roset factory in 1954. Almost immediately he became one of the leading designers: due to his persistence, the company advanced quickly on the way of technological innovations and mastered new aesthetic forms.
In 1968, he and Ligne Roset were one of the first in the world to create a sofa made entirely of polyurethane foam (Adria model). Most likely, it inspired the designer to make the Togo system of modular sofas and chairs, released in 1973.
Ligne Roset Togo Collection
The frameless seats were made entirely of polyurethane foam and covered with pleated upholstery. The sections of Togo chair and sofa could be rearranged as you wish: put together or used as armchairs. The modules (these are Togo double sofas, ottomans, corner elements, benches, canapés and poufs) have different shapes and it is easy to make any composition from them.
The Togo chair and sofa design allows for a lot of freedom in interior design and due to its eye-catching shape it is loved by designers and users.
The Togo chair was an innovation in the shape of furniture in the 70s. Ligne Roset furniture matched the taste of the generation that went through a phase of 60s and was ready to move on. Their desire for creativity and unusual, quirky shapes switched from the revolutions and the streets to houses and was reflected in the interior design. Freedom of Togo chair shape, softness, absence of legs and frame instantly made it a timeless Ligne Roset's bestseller.
Up to nowadays, Ligne Roset is associated with extraordinary and daring design.
If you love architectural furniture, you might be interested in iconic Mr. Chair by Knoll.