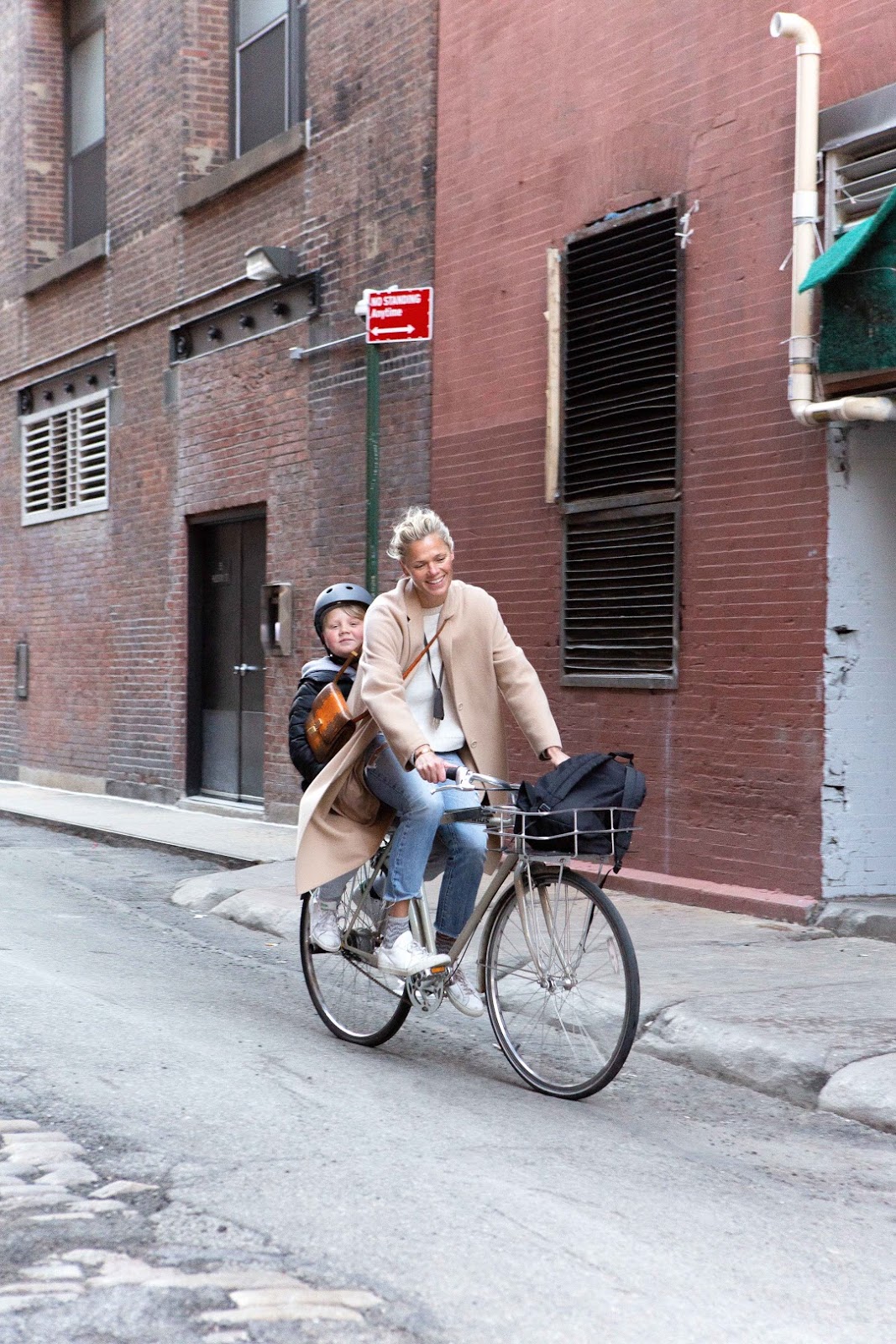 Camilla Vest moved from Denmark to New York City with her husband in 1995 after starting her modeling career as the face in Guess, Revlon and J.Crew campaigns. Now though she is bridging the Atlantic Ocean to bring Scandinavian design to the US with Objects who represents several Danish brands here including Skagerak, Skovshoved Møbelfabrik who produces the famous OGK Safari daybeds and chairs, as well as Brdr. Petersen (check out their Penguin chairs). As a brand ambassador, Camilla ensures their products are placed with the right retailers and design professionals across North America.
Today Camilla is generous enough to give us a peek at her Soho loft and showroom for Objects as well as her favorite daily stops and a personal look at her life in the city in picture form, courtesy of Sarah Elliott. Read Camilla's words below for a close look!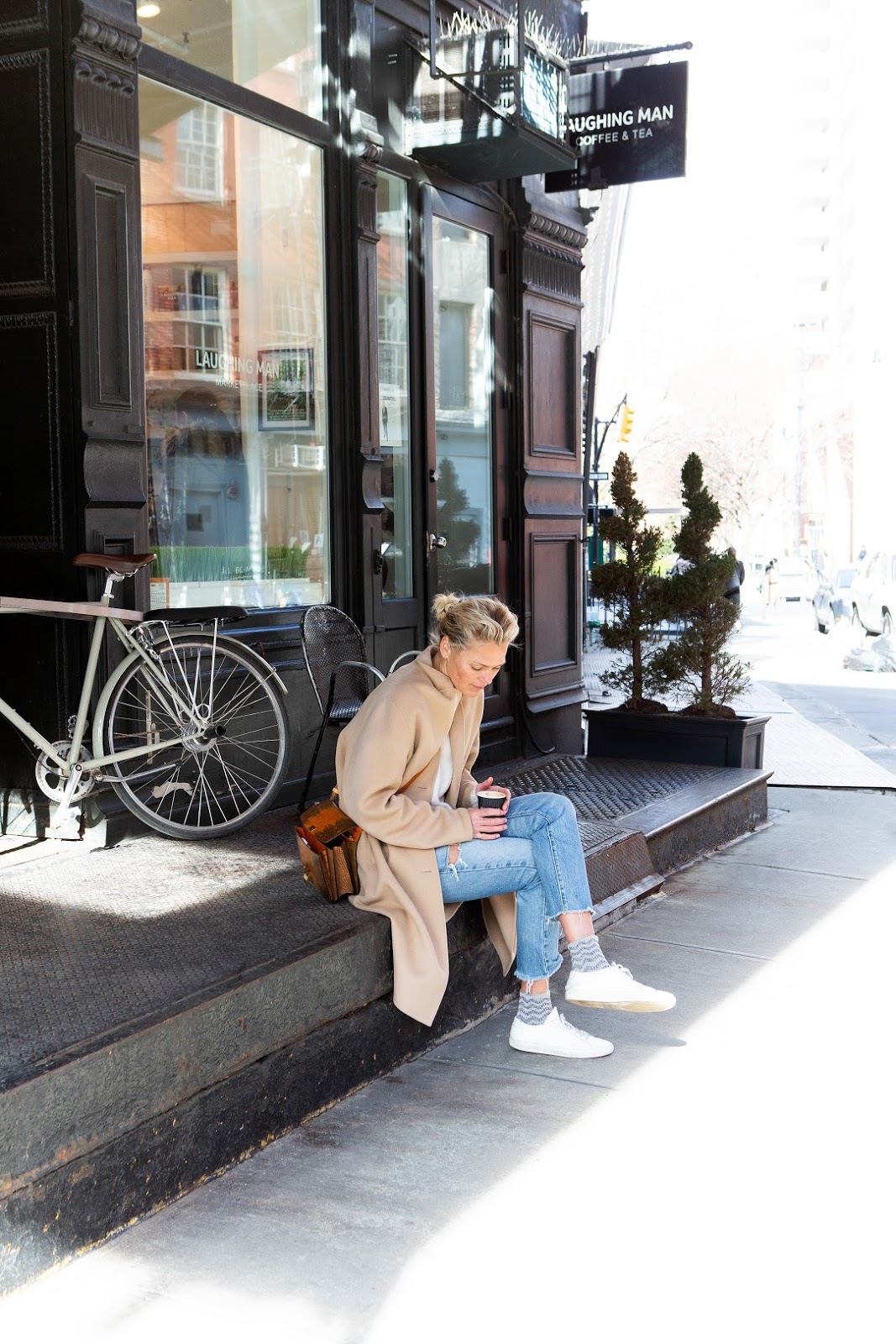 Every morning I make time for an early morning workout, drop my son off at school and then get to working in my office surrounded by a bit of candlelight to create that infamous "hygge" atmosphere. One of the best things about living in New York is that so many great places are right around the block. I love being able to take my son to school on my bike and enjoy having a slow morning. Being Danish it's just natural for me to bike everywhere. Once I have him dropped off I make a quick stop by the cutest coffee shop called Laughing Man in Tribeca. You're likely to run into a friend or fellow parent in the shop to chat with and catch up.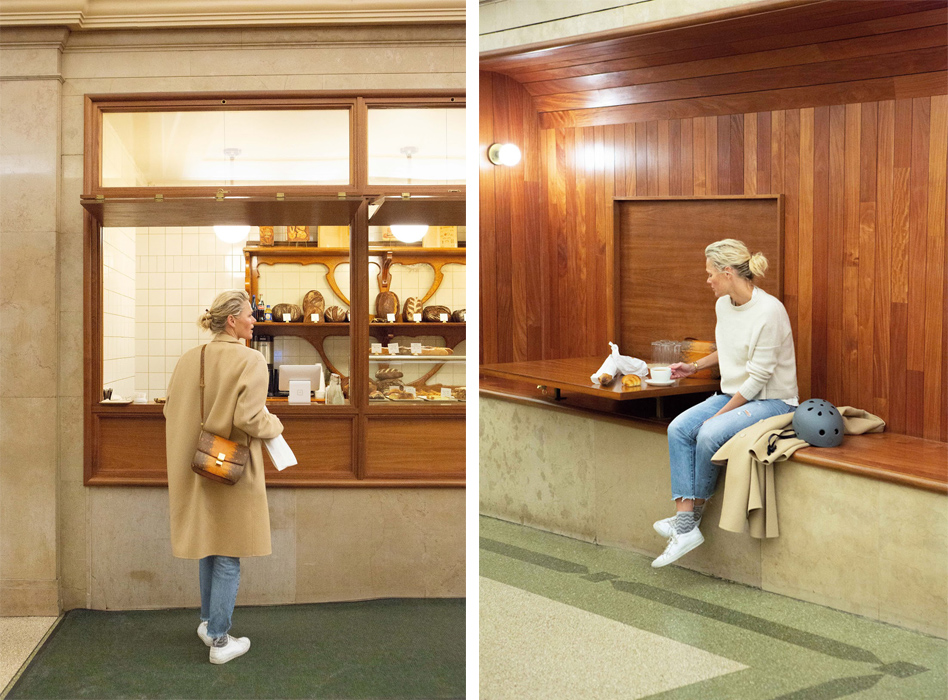 My showroom Objects is run from our Soho loft so typically I stop nearby at one of the best bakeries in town called Arcade (also in the Tribeca area) to grab some delicious croissants for our morning meetings. Just down the street I will pick some great branches or flowers for the showroom from the wonderful Emily Thompson Flowers inside the RW Guild store. That's what is so great about NYC, I'm able to get so much done just on my way home from my son's school and still make it in time for meeting clients at our showroom.
Bringing back fresh baked bread and stems for the showroom.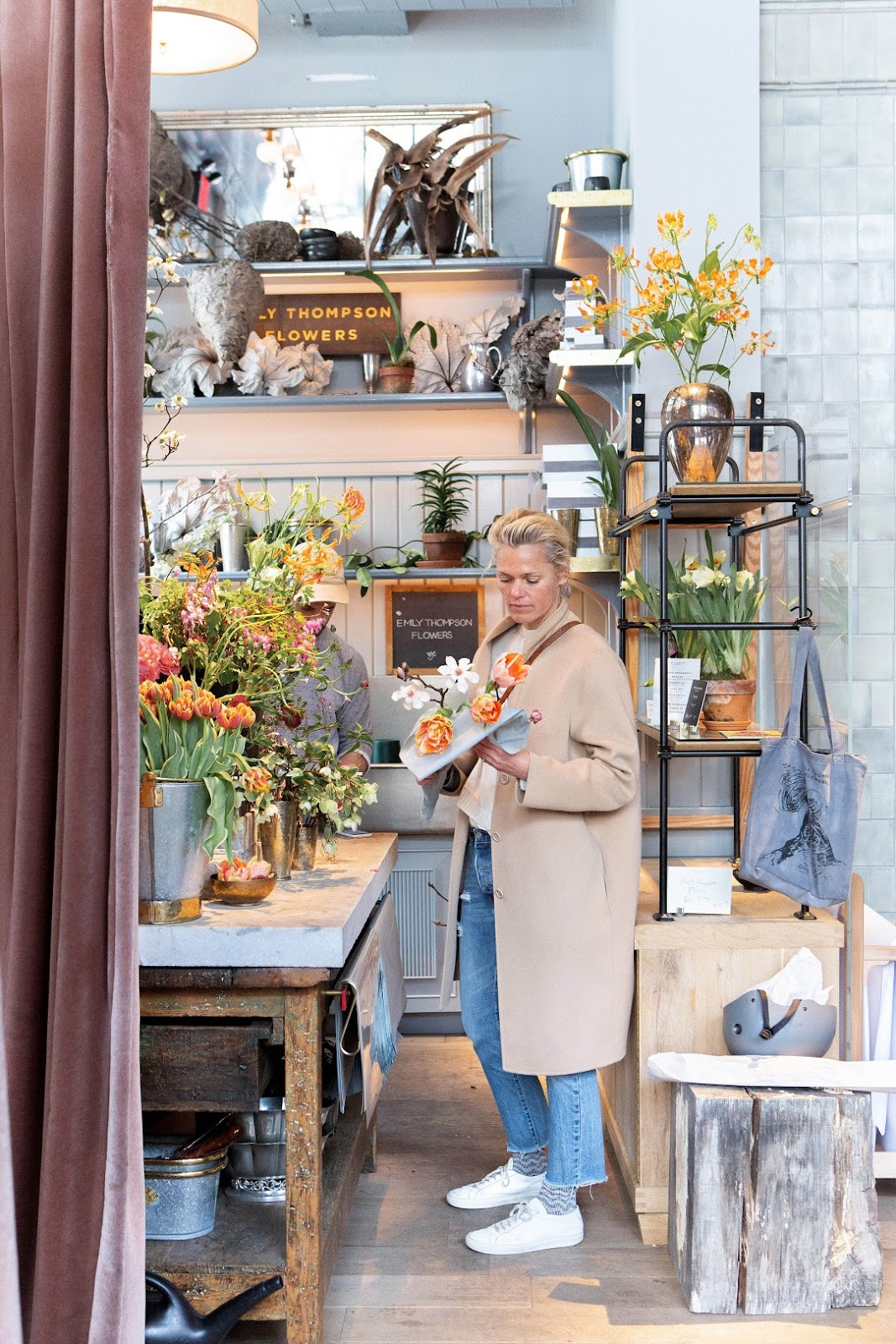 Welcoming clients to our showroom and sharing our touch of Scandinavian living is something I really enjoy. It's a great way of experiencing our products in a totally more personal way. You also idea of how our pieces can be mixed in with a more personal style. Working hours and it can be a challenge to stay structure with work while being at home but I definitely try to balance work & play life otherwise it's too easy to get sucked into the NY routine of always being available however having two children sort of helps to keep some structure to the day. I like working more with this sort of flexibility, taking the opportunity to pick my daughter up from her dance lessons or just hanging in the park with my son and his friends in the afternoon. I can always catch up with work tasks later in the day.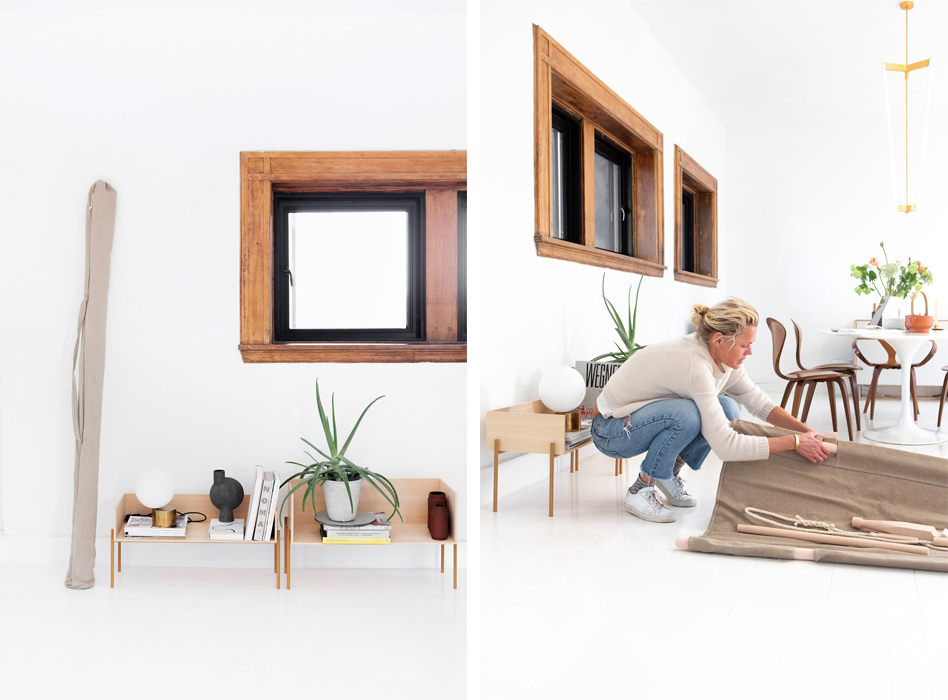 To the left are
Skagerak's
Vivlio
shelving units which help keep the studio organized, standing upright is a yet-to-be-assembled daybed. On the right Camilla shows how simple it is to set up the natural
OGK Safari daybed
, designed by architect Ole G Knudsen in 1962, inside her loft. The daybed and chairs alike arrive packaged neatly in these canvas totes for easy storage and set up.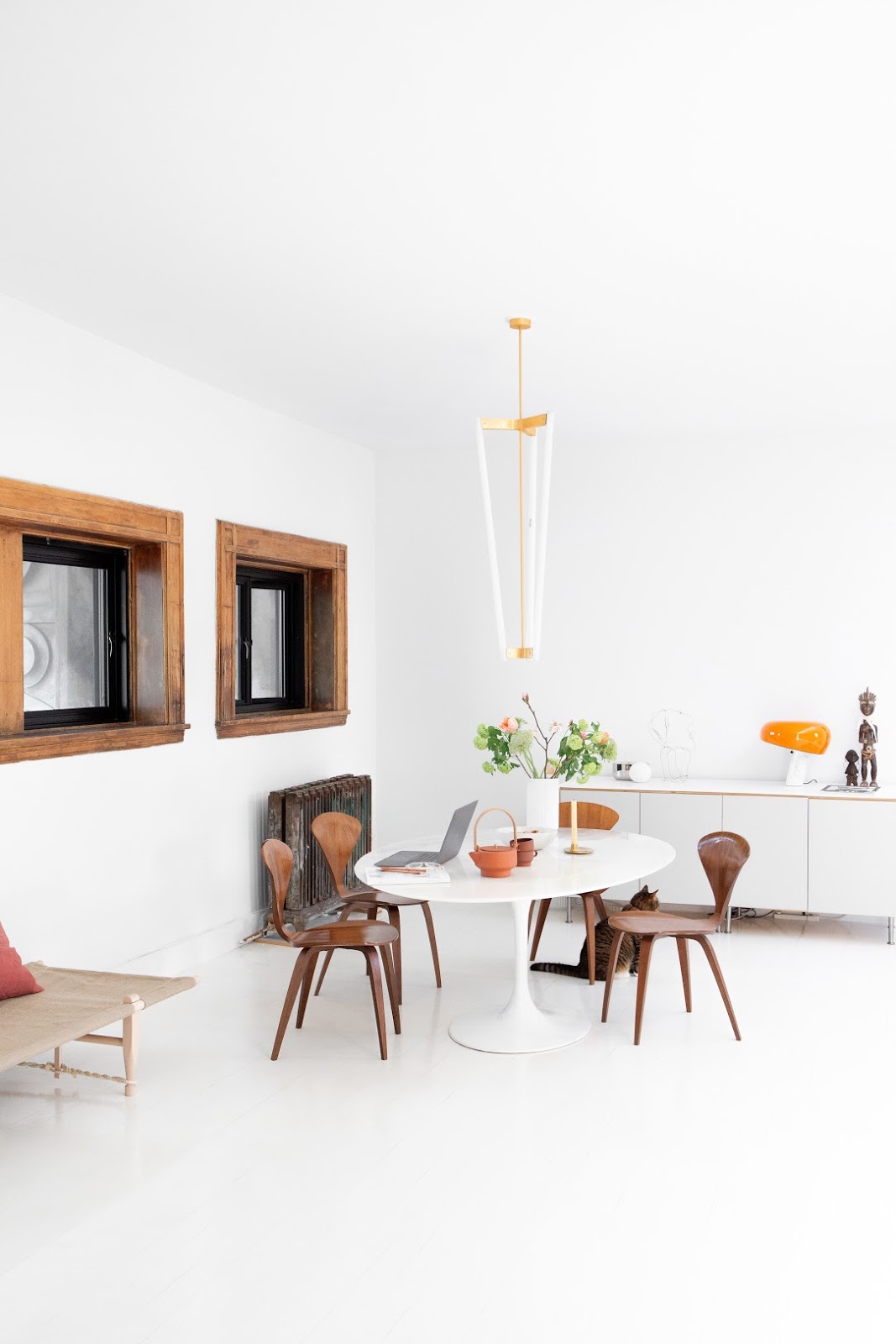 The Objects Loft & Studio space.
We keep it very minimalistic in our loft space and I'm a big believer in "less is more". Our clients are often inspired by the way we keep things so simple, it really helps them gain a better understanding of our brands and how we represent. Working in our loft space can be challenging because you also have to create an after hours space for the family which forces me to be very disciplined in keeping the studio approachable and welcoming for everyone. It's great to change things around in the loft with our unique accessories I have brought back from my endless travels to from Copenhagen and mix our Scandinavian style with items like this Skagerak teapot, with some great Italian light fixtures like our snoopy lamp (pictured above) with the orange glass shade, a new favorite of mine, plenty of candlelight and the iconic marble Saarinen Tulip dining table!
Photos courtesy of Sarah Elliot.
Be sure to check out more design interviews here!