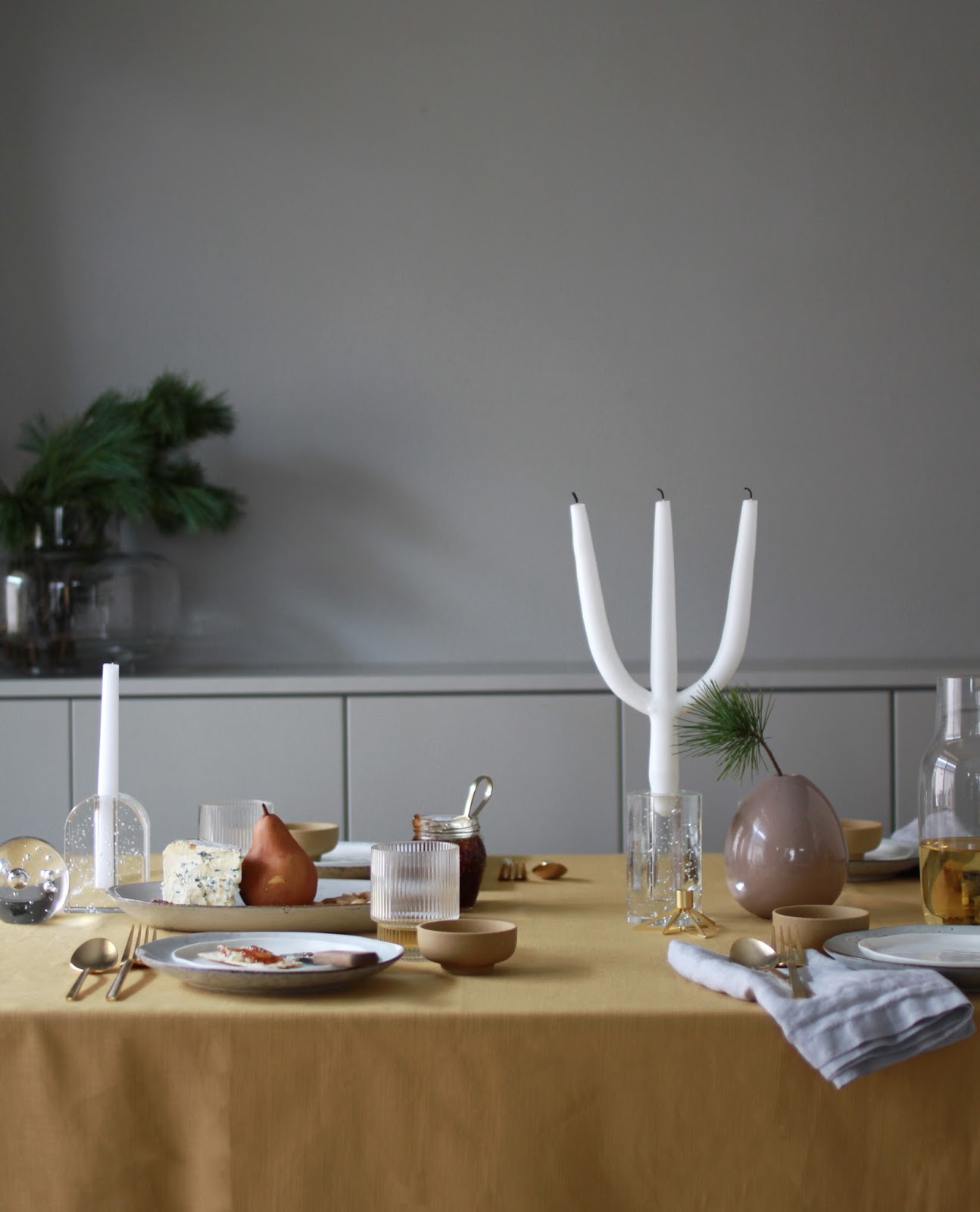 Entertaining can be daunting, even more so during the holidays. If you have friends you want to impress or picky family members or you just want to really wow people, it might be difficult to know where to start.
Today I'm sharing my take on a Christmas setting, going for a bit more color than I usually do! I was so excited about the new Sekki collection from Ferm Living and they were kind enough so send some of their Curry Salt bowls, which can be used for hold place cards, olives or dessert mints in my case! (recipe for these coming soon!)
This large Swedish branch candle is from Samuji and you can find more here. The tiny star shaped candle holders from Stelton look good even empty, no? I also used some of their bubble glass objects which work as vases or candle holders! They remind me of champagne and feel very festive but also completely evergreen, meaning they'd work all year.
In addition I brought out some of these small plates from H&M as well as the salad plates we use on a regular basis at home. If I was having a couple of friends over I wouldn't stress too much about making something lavish but I would have things to nibble on like some cambozola, fig spread + this beautiful little sprinkle spoon, macron almonds and crackers. Nothing fussy but tasty enough to keep people occupied until dinner is ready. The flatware is from West Elm and I've had it for almost two years now, though they're not our everyday utensils so they still look new.
Lastly, I adore the Ripple collection from Ferm and these stacking cups have been on my wishlist for some time. They look more expensive than they are and are easily nice enough for a dinner but practical enough to use as water glasses any day of the week.
Follow along with the rest of the 5 Days of Christmas series here, at Ollie and See's Haus and on Instagram all week!