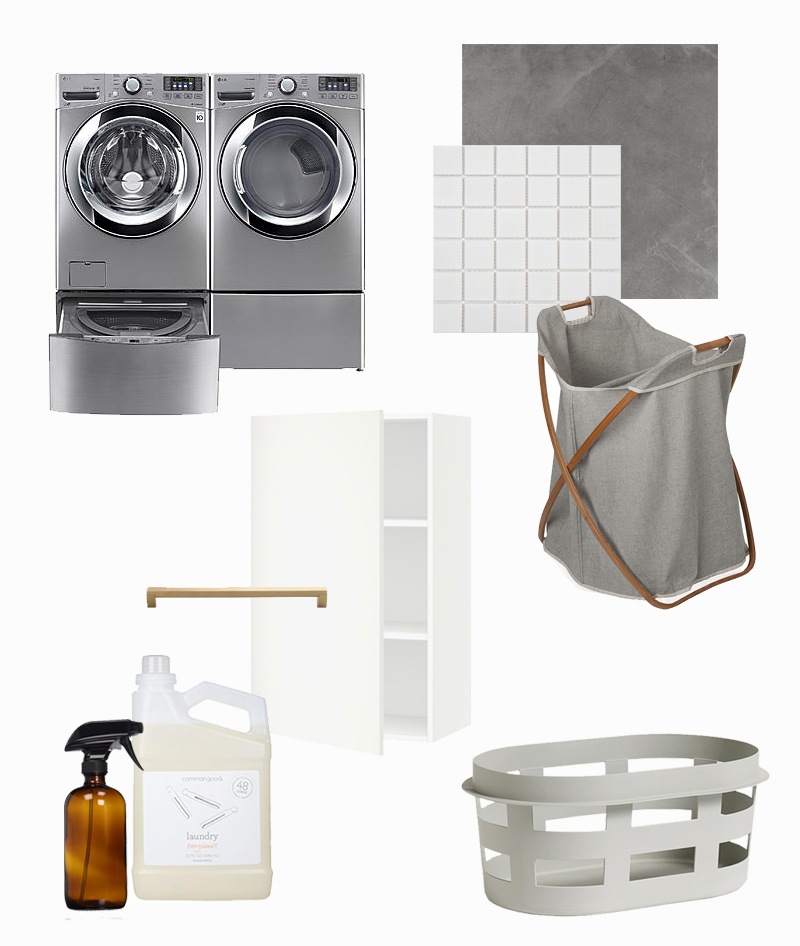 You've already heard that we are making some changes in the kitchen but that's not the only room in the house that will be seeing change soon. Soon after we bought this house the first thing we did was to wipe out the old kitchen and start from scratch, replacing all appliances and cabinets with versions that were a total opposite to the ugly beige contractor kitchen first built with the house.
Then earlier this year we changed one of the bathrooms with a new concrete countertop, stainless steel sink & faucet, tile and a fresh coat of paint to the existing cabinets. I added brass knobs, towel hooks and grey paint on the walls. I've shared bits and pieces of this Instagram but not a formal tour here on the blog because the bathroom is small enough that I can't fit it in the cropped lens of my DSLR. :/
Now we have the larger bathroom (master) and laundry room that need updating and I'm so (SO) excited that the laundry room is finally getting a facelift. It's not a part of the house that I share often on the blog, I mean we all love living rooms, bedrooms and kitchens but we rarely talk about bathrooms and mud/entry/laundry type of rooms despite being high traffic areas that get used nearly every day. Our laundry room currently untouched (spare the new simple light fixture) the original beige linoleum floor, beige walls and honey colored cabinets, just like what our kitchen used to have. Yuck.
To begin with we desperately needed a new washer and dryer. I know some of my European and Australian readers don't use a dryer but I cannot live without it, or at least I don't want to so buying a new pair was a must. We are staying very simple with this and going for mostly white to match the majority of the house, and also because this room receives 0% natural light, I want the feeling of brightness. Nothing ground breaking here, this is all about making the room efficient, clean and organized.
I am also happy to share that I have partnered with LG to try out their SideKick which functions as an additional washing machine in the footprint of a laundry pedestal. From now until October 19th LG is having a promotion: buy a 4 piece laundry bundle* and LG will upgrade you to an LG SideKick™ at no extra cost! Check here for more info.
*4-piece laundry bundle including LG front-load washer, companion dryer, LG SideKick pedestal washer and dryer storage pedestal
With new appliances in place here's what we still need to in the coming month:
/ attach LG SideKick to front-load washer (I will be giving one of these away in the coming weeks!) and pedestal to dryer
/ paint walls white-just to match the rest of the house
/ tile half way up the wall with white mosaic sheets and white grout
/ remove existing cabinets and replace with Ikea's Sektion (I already have two of these in storage)
/ add brass handles-these are part of the same series of pulls we have in one of our bathrooms
/ remove old flooring and replace with grey concrete tile-this is the same as our entryway tile
/ replace soaps and sprays with generic containers & spray bottles for a more minimal look
/ new laundry baskets and clothes hamper
Stay tuned for progress, we are going to start the tile work this weekend thanks to my handy husband.
**this post was created in partnership with LG, all words beside the promo disclosure are my own